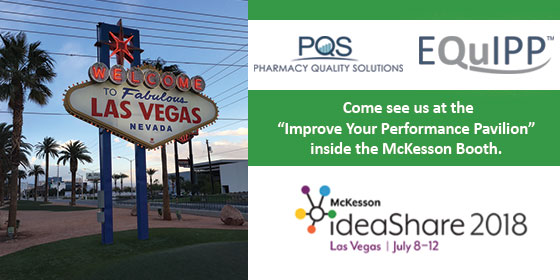 Catch up with PQS July 8 – 12, 2018
Pharmacy Quality Solutions (PQS) is currently exhibiting at McKesson ideaShare July 8-12, 2018 in Las Vegas, Nevada. PQS will be speaking at multiple venues during this event. Elliott Sogol, PhD, RPh, FAPhA, VP Professional Relations at Pharmacy Quality Solutions, Durham, NC presented a "Quality Matters" CE Seminar to a room of 150 attendees on Sunday July 8th.
Sogol spoke on the role of driving performance and patient outcomes for pharmacy team members and how to positively impact quality measures.
If you missed Sunday's seminar, Sogol will present an abridged version on Wednesday at 9 am to 10 am in room Veronese 2505 to ensure your pharmacy team is up to date on quality performance measures.
The following learning objectives for the pharmacist will be discussed:
Review key pharmacy quality measures that pharmacies can impact now.
Outline how to best position your pharmacy for success in quality improvement programs and value-based reimbursement opportunities.
Create processes to incorporate quality performance focused actions into the pharmacy's workflow process.
Review methods to help prioritize work so your team can quickly impact measures and become proactive vs. reactive.
We hope to see you there.
Look for PQS at two workshops on Tuesday July 10th 11:30 to Noon – "Engaging your whole staff in EQuIPP™" (Pavilion 2)  and 1 pm to 1:30 pm "Identifying Opportunities Within EQuIPP™ (Pavilion 2). PQS will also be part of a panel in the exhibit hall from 2 pm to 3 pm entitled "Trends in Pharmacy Performance" located in plaza N of the exhibit hall.
You can also find PQS Monday through Wednesday during exhibit floor hours in the "Improve Your Performance Pavilion" inside the McKesson Booth. We are excited to meet with pharmacists and their staffs to discuss EQuIPP™.