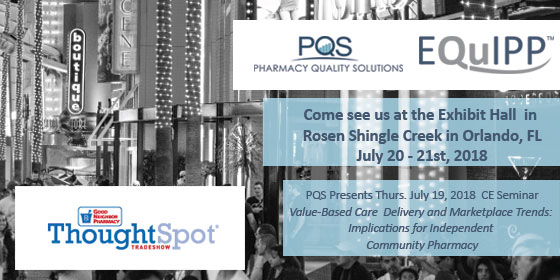 July 16, 2018 – Pharmacy Quality Solutions (PQS) will be presenting a continuing education seminar at AmerisourceBergen and Good Neighbor Pharmacy's ThoughtSpot 2018 in Orlando, Florida entitled "Value Based Care Delivery and Marketplace Trends: Implications for Independent Pharmacy" on Thursday July 19, 2018.
Speakers: Todd Sega, Pharm D, Vice President of Client Relations & Services of PQS and Norris Turner, PharmD, PhD, VP, Strategic Alliances and Measure Implementation of Pharmacy Quality Alliance (PQA) will be co-presenting.
Start Time: Thursday, July 19, 2018 – 8:30 AM
Minutes: 90
Location: Sebastian L3-4
Session Credits: 1.50
Activity Type: Application -Based
Session Description:
The evolutionary shift of the U.S. health care system from fee-for-service to value-based can be safely characterized as non-linear, disruptive, and carries with it highly variable levels of risk for different kinds of healthcare stakeholders. Understanding key marketplace trends in this environment and having a proverbial seat at the table are crucial factors to enhancing capabilities towards shaping the emerging landscape to align with achieving strong patient and population health outcomes, doing so affordably, and meeting the needs of the health care professionals responsible for delivering and influencing the care. This session will cover current and emerging quality measures related to pharmacy practice and discuss implications for independent community pharmacy practice.
Objectives:
Define the Triple Aim and Quadruple Aim paradigms and the role played in setting the stage for effective population health management
Discuss population health management and the important factors of physical health, behavioral health, and social determinants of health in delivering whole person care
List the general risk levers employed to realign incentives for health care stakeholders to deliver higher quality and more affordable care
Define the important role that quality measures and quality measure sets can play in achieving improved quality
Demonstrate value-based marketplace trends on implications for evolving independent community pharmacy practice