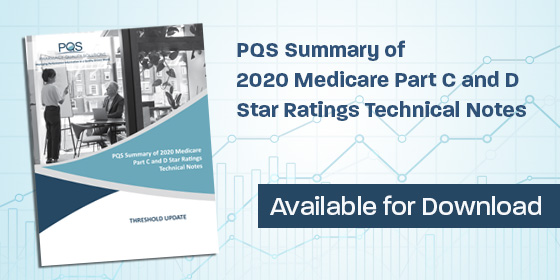 As partners for improving quality, PQS recapped the 2020 Medicare Part C & D Star Rating Technical Notes that impact pharmacy-based quality measures with key takeaways and charts graphing trends and thresholds. The complete version of the Technical Notes can be found here.
The Centers for Medicare & Medicaid Services released the Medicare 2020 Part C & D Star Rating Technical Notes on October 9th. This update documents the trends and high-level summary of performance associated with key Part D measures.
The 2020 Star Ratings for Medicare Part C & D plans are displayed on the Medicare Plan Finder found at www.medicare.gov. As of October 15th, Medicare beneficiaries can view these 2020 Star Ratings when selecting their MA-PD or PDP for the 2020 benefit year as part of the Open Enrollment period which will continue through December 7th.
Please continue reading our highlights by downloading the summary.
PQS Summary of 2020 Medicare Part C and D Star Ratings