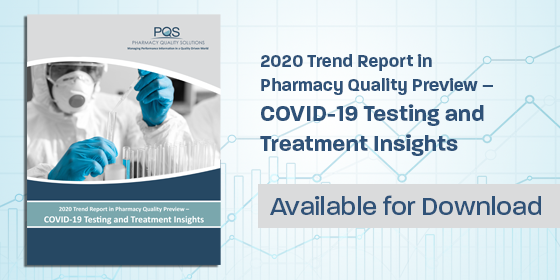 Pharmacy Quality Solutions (PQS) has released an early look at the 2020 Trend Report in Pharmacy Quality, previewing the COVID-19 Testing and Treatment Insights.
In March 2020, PQS conducted a survey among a large panel of consumers to assess their perceptions associated with pharmacist-provided services. For the 2020 Trend Report in Pharmacy Quality, the report will highlight trends and changes in behavior related to pharmacist-provided services compared to 2019. The full 2020 Trend Report is estimated to be completed by August 2020.
Within the 2020 consumer survey, PQS added two additional questions to assess consumers' level of comfort with receiving COVID-19 testing and treatment from various healthcare provider settings. As a result, this pre-release contains a snapshot of insights from the consumer survey specific to COVID-19.
Download this COVID-19 special mini-report using the button below.
2020 Trend Report in Pharmacy Quality Preview – COVID-19 Testing and Treatment Insights