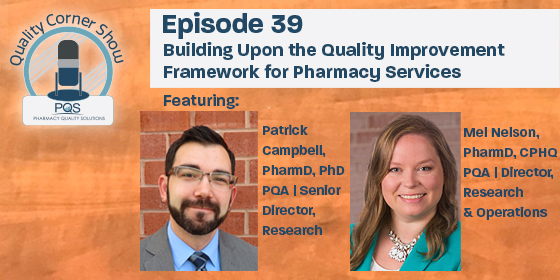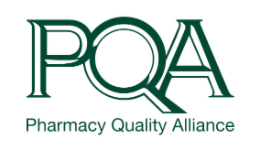 PQS Senior Manager of Pharmacy Accounts, Nick Dorich, PharmD, explores building upon the quality improvement framework for pharmacy services with Pharmacy Quality Alliance (PQA) team members, Patrick Campbell, PharmD, PhD, Senior Director of Research and Mel Nelson, PharmD, CPHQ, Director of Research & Operations on the PQS Quality Corner Show.
Campbell and Nelson discuss their recently published article in the Journal of Managed Care & Specialty Pharmacy, "Traversing the Quality Chasm: Revisiting the Framework for Pharmacy Services Quality Improvement." On the podcast, the team discusses hurdles pharmacists must overcome to improve quality and current initiatives to improve quality in pharmacy practice.
Listen to episode 39, "Building Upon the Quality Improvement Framework for Pharmacy Services", of the Quality Corner Show below.
For more about the Pharmacy Quality Alliance, visit the PQA website.
The following two tabs change content below.

Jasmine Perry, BS is a rising third-year Pharm.D. candidate at the UNC Eshelman School of Pharmacy with diverse experience as a pharmacy intern. She currently serves as the Communications Intern with Pharmacy Quality Solutions, Inc. Jasmine is passionate about serving under-served patient populations. Jasmine's passion has been highlighted through clinical experiences, patient interactions, and organizational leadership.

Latest posts by Jasmine Perry (see all)