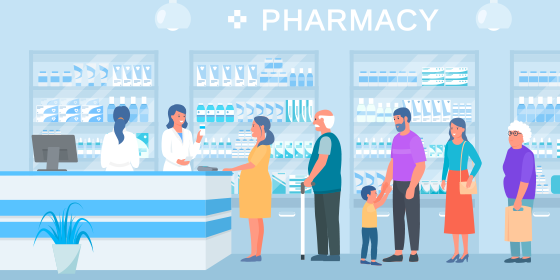 October is a celebratory time in the world of pharmacy. I would like to take a moment to recognize all pharmacists that continue to serve their communities and advance the pharmacy practice.  COVID-19 has presented challenging times to all, but the work of pharmacists, pharmacy students, and pharmacy technicians has been a shining light as they provide accessible care to address their patients' needs.
Today I would also like to make a special recognition to our women pharmacists who are courageous, shrewd, and compassionate leaders in their roles.  Today we celebrate Women Pharmacist Day!
When taking time to celebrate and reflect, I always find it important to understand where we have been, what is happening now, and where we are going.  The story of women in pharmacy is a true testament to the advancement of women through time.
Historically speaking, pharmacy practice has been a male-dominated role. But did you know that long before there were women physicians or dentists, there were female apothecaries?
Elizabeth Gooking Greenleaf is widely regarded as the first female pharmacist in the United States.  In 1727, Elizabeth opened her apothecary and was the first female to perform a role that previously was only held by men. She did all of this while having and raising 12 children[1].
It wasn't until over a century later, in 1849, that Elizabeth Blackwell became the first woman physician.[2] About six years after that, Emeline Roberts Jones became the first woman dentist.[3]
The early history of women in pharmacy was strong, but leading into the mid-twentieth century there were still hurdles. By the mid-1960s, female pharmacists accounted for only eight percent of licensed practitioners.[4]  The industry at that time was dominated by self-employed male pharmacists typically owning and operating their own independent pharmacy.  Throughout recent history we have seen tides change.  In 1985, female pharmacists comprised a majority of pharmacy school graduates and never turned back. [5] Now, female representation in pharmacy represents almost 60% of all pharmacists.[6]
So this begs the question, where are we going? Women in pharmacy continue to be empathetic and courageous leaders in their role.  With studies showing that Women in the United States make approximately 80% of the health care decisions for their families, [7] female pharmacists are uniquely positioned to connect with these healthcare decision makers and make an impactful difference in the care their patients receive. Additionally, women pharmacists empowered by their past leaders are keen to fight for pharmacy provider status and continue to build on the groundwork that their foremothers laid.
While I will be celebrating pharmacists all month, I want to take today to specifically celebrate, and say thank you, to women in pharmacy.  May you continue to be strong role models in your communities, families, and profession.
[1] Henderson, Metta Lou; Worthen, Dennis B. (March 8, 2002). American Women Pharmacists: Contributions to the Profession. CRC Press. p. 2. ISBN 9780789010926. Retrived Oct. 10, 2020: https://books.google.com/books?id=B3dZEmPUoBcC
[2] https://www.nlm.nih.gov/exhibition/blackwell/index.html
[3] https://www.sindecusemuseum.org/emeline-roberts-jones
[4] https://www.nber.org/digest/feb13/w18410.html
[5] https://www.ncbi.nlm.nih.gov/pmc/articles/PMC4315200/
[6] https://datausa.io/profile/soc/291051/
[7] https://pubmed.ncbi.nlm.nih.gov/25418222/
The following two tabs change content below.

Cora Eilders
Cora Eilders, MHA, is the Senior Manager of Payer Relations at Pharmacy Quality Solutions. She works collaboratively with payers in the US to identify and implement quality improvement strategies. With a background in clinical care settings, Cora believes that pharmacists play a vital role, and can continue to grow their presence in the healthcare continuum.

Latest posts by Cora Eilders (see all)