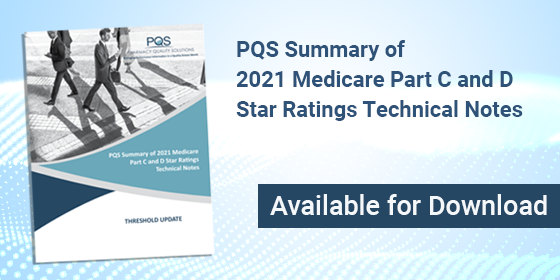 As partners for improving quality, PQS recapped the 2021 Medicare Part C & D Star Rating Technical Notes that impact pharmacy-based quality measures with key takeaways and charts graphing trends and thresholds. The complete version of the Technical Notes can be found here.
PQS Summary of 2021 Medicare Part C and D Star Ratings
Here are a few of the general points and highlights from the report:
The 2021 Star Ratings do not contain any new measures, just updates to how measures are weighted and a measure (i.e. All-Cause Readmissions) that was transitioned to a Display measure. The measure was temporarily transitioned to a display measure as the measure specifications had a substantive change.
Due to CMS's commitment to putting patients and beneficiaries first, the 2021 Star Ratings incorporate the increased measure weighting of patient experience/complaint and patient access measures from 1.5 to 2. Examples include:
-Getting needed care
-Getting appointments and care quickly
-Customer service
-Rating of Health Care Quality, Rating of Health/Drug Plan
-Complaints about the Health/Drug Plan
-Members choosing to leave the plan, etc.
Decision on how to modify ratings due to COVID-19 Public Health Emergency:
-Changes were made to the 2021 Star Ratings for measures in which collecting data was disrupted or negatively impacted. In addition to the 2021 Star Ratings, changes are also made to account for 2022 Star Ratings that are negatively impacted due to the public health emergency.
-For the 2021 Star Ratings, CMS informed Health Plan sponsors that HEDIS and CAHPS survey data was not required for submission, and that data from the prior year would be carried forward. Data for all other measures was updated to account for the 2021 Star Ratings as the data would have represented the 2019 calendar year (pre-pandemic).
The other large weighting change with these ratings includes the change from a single to a triple weight for the Statin Use in Persons with Diabetes (SUPD) measure.
Approximately 77% of MAPD enrollees (4% decrease from 2020) and ONLY 17% of PDP enrollees (drop from 28% in 2020) are in a Medicare contract with a rating of 4 or more stars.
Average Overall MAPD Star Rating decreased to 4.06, which is identical to the average Star Rating in 2019. The average PDP Star Rating increased from 3.5 Stars in 2020 to 3.58 in 2021.
The Centers for Medicare & Medicaid Services released the Medicare 2021 Part C & D Star Rating Technical Notes on October 8th. This update documents the trends and high-level summary of performance associated with key Part D measures.
The 2021 Star Ratings for Medicare Part C & D plans are displayed on the Medicare Plan Finder found at www.medicare.gov. As of October 15th, Medicare beneficiaries can view these 2021 Star Ratings when selecting their MA-PD or PDP for the 2021 benefit year as part of the Open Enrollment period which will continue through December 7th.
Please continue reading the summary for Medication-related Part D Measure Updates and MAPD and PDP thresholds and performance trends.
PQS Summary of 2021 Medicare Part C and D Star Ratings