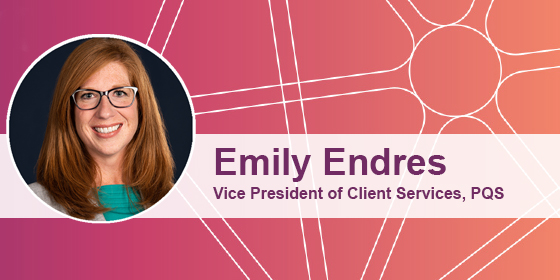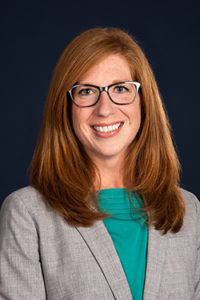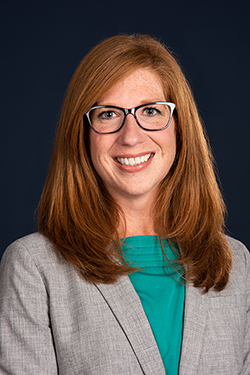 Emily Endres is the Vice President of Client Services at Pharmacy Quality Solutions, Inc. She has the privilege of leading a highly regarded team of client account managers and customer support specialists. Bringing over 17 years of experience in Community Pharmacy and Managed Care, she works to help Pharmacies and Payers effectively collaborate in the mission of continuous quality improvement.
How long have you worked at PQS and what is your favorite part about working here?
I began my career with PQS in the fall of 2016 and haven't looked back since! In a previous work life, I had responsibility for PQS as a vendor partner to my organization. The moment I met the PQS team in 2014 I knew that my next career move would include working for that team. When an opportunity became available a few years later, I didn't hesitate and ran towards it! Immediately, the team became my family. Since the first day I started and each day thereafter, I have been able to walk into my home office, log into my laptop and work alongside a growing team of other people who share the same passion, enthusiasm and motivation. We have SO much fun working together! We each bring a unique perspective to the task at hand and being able to work incredibly close with a small group of people on such a big area of focus like quality improvement, we have the opportunity to really get to know one another and respect each other. We embody the true spirit of a team and the great culture that comes from being able to lock arms and move forward together. Each day is a new challenge, a new learning, a whole lot of laughter and above all there is fulfillment. I can't imagine work life being any other way.
People would be surprised if they knew:
I am a tad bit superstitious! I believe firmly that absolutely everything happens for a reason. We don't always know the reason right away, but eventually the whole puzzle comes together, and the picture can be clear. So, I pay attention to the signs along the way. The cardinal that keeps watch in the tree outside of my office window, the pennies in my path or even an itchy nose can all be great indicators of how my day is going to unfold.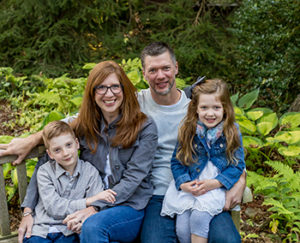 How do you like to spend your time when you aren't working?
I love spending time with my family! I have two young ones that keep my husband and I on the go, and we wouldn't have it any other way. We live a little off the grid (i.e. there are no natural gas lines, no cables lines, and we have the worst internet connection and if you have been on a Zoom call with me you know this is very true!), so we like to spend our time outside exploring the acreage, riding 4-wheelers, playing soccer, whatever we can find to get into. We like to take small adventures to show our kiddos the world around us and to explore all the great things that we can. We value "cousin time" greatly and always look forward to seeing our extended family which are mostly all conveniently located in central Ohio with us.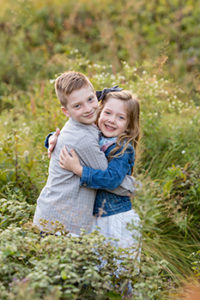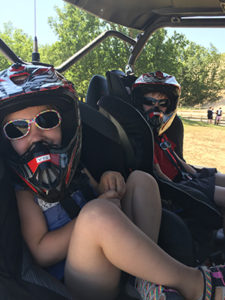 What is your go-to karaoke song?
Fun fact: I have never sung karaoke. I am not sure how I made through college or my adult life, but someday I will make it happen 😊
What's the greatest bit of advice you've ever been given?
The best advice I have been given is in the form of a question. When facing a tough decision especially within your career or when presented with an opportunity, ask yourself this question; "Are you running from something or towards something?" Oftentimes running away from challenges or obstacles you may be facing seems like the easier and safer route; however, we cannot stay on the run. But, if you are running towards an opportunity that likely means it is the right choice and for the right reasons.
How do you define success?
Smiles! I define daily success by smiles. I have one simple daily goal and I have had this since I started my career in retail pharmacy decades ago – Make one person smile each day. This can be achieved many ways; simple gestures, laughter is a great tool, but mostly I have found that wearing a smile provokes more smiles and meeting my daily goal becomes much easier if I smile first 😊
For more team member interviews, please visit the Employee Spotlights page.