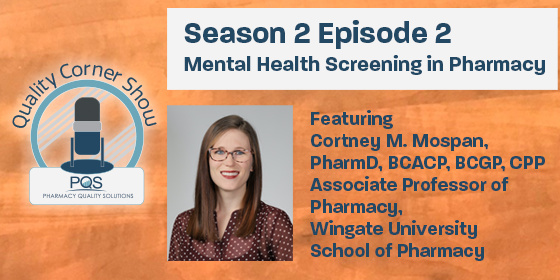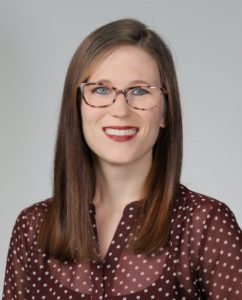 Season two of the Quality Corner Show continues with PQS Senior Manager of Pharmacy Accounts, Nick Dorich, PharmD interviewing Cortney M. Mospan, PharmD, BCACP, BCGP, CPP, Associate Professor of Pharmacy at Wingate University School of Pharmacy. Mospan dives into her previous experiences in community pharmacy practice and methods community pharmacies can use to implement mental health screenings.
Mospan beings the conversation by sharing her background in pharmacy, her current work, and her professional experiences. She also discusses the prevalence and outcomes of evaluations currently used in the community setting and the dire need to implement these programs into practice. For more information about mental health screening in community pharmacy, listen to the full Season 2 Episode 2 podcast of the Quality Corner Show below.
Follow Dr. Mospan on Twitter: @co_rtneymarie
The following two tabs change content below.

Jasmine Perry, BS is a rising third-year Pharm.D. candidate at the UNC Eshelman School of Pharmacy with diverse experience as a pharmacy intern. She currently serves as the Communications Intern with Pharmacy Quality Solutions, Inc. Jasmine is passionate about serving under-served patient populations. Jasmine's passion has been highlighted through clinical experiences, patient interactions, and organizational leadership.

Latest posts by Jasmine Perry (see all)