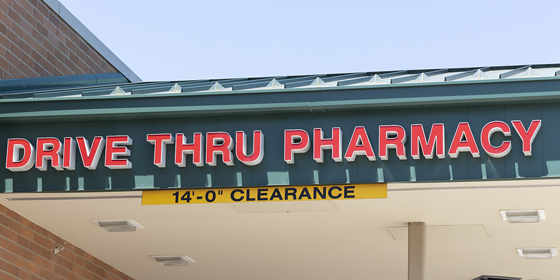 Did prescription utilization in 2020 vary among pharmacies with or without drive thrus?
Description of Analysis:
Although pharmacies have remained open during the COVID-19 pandemic, the approach and frequency patients took when utilizing these services may have been disrupted. Patients may prefer to transfer prescriptions to pharmacies with a drive thru option to facilitate social distancing while still interacting with the healthcare system. Using a subset of aggregated claims for Medicare Advantage (MA-PD) and Medicare Prescription Drug Plans (PDP) from multiple payers and PBMs, there is an observed initial peak and then considerable drop in overall prescription claim volume aligning with initial state-issued stay at home orders. However, the trends were consistent among pharmacies with and without a drive thru. Interestingly, the peak in claims occurred when ambulatory care visits may have already been on the decline and prescription claims plateau as more ambulatory care visits may have been converted to telemedicine. Mehrotra et al. found total ambulatory care visits had already decreased by 43% for those with Medicare compared to baseline at the time of these peak prescription claim volumes.1 Additionally, they note telemedicine peaked at 13.9% relative to baseline the week of April 12th for all patient populations.
As healthcare delivery continues to evolve in these new conditions, it will be important to observe how quality measurement evolves with it. One reason is it's likely unknown how these fluctuations will affect measures previously standardized using historical data outside of pandemic conditions. However, approaches to accommodate the changes to the healthcare landscape have already begun. For example, on January 15th, CMS noted NCQA changes to ease telehealth restrictions on denominator calculations that will impact 2022 Star Ratings.2 Identifying these changes early in your organization will help enable continuous quality improvement in patient care.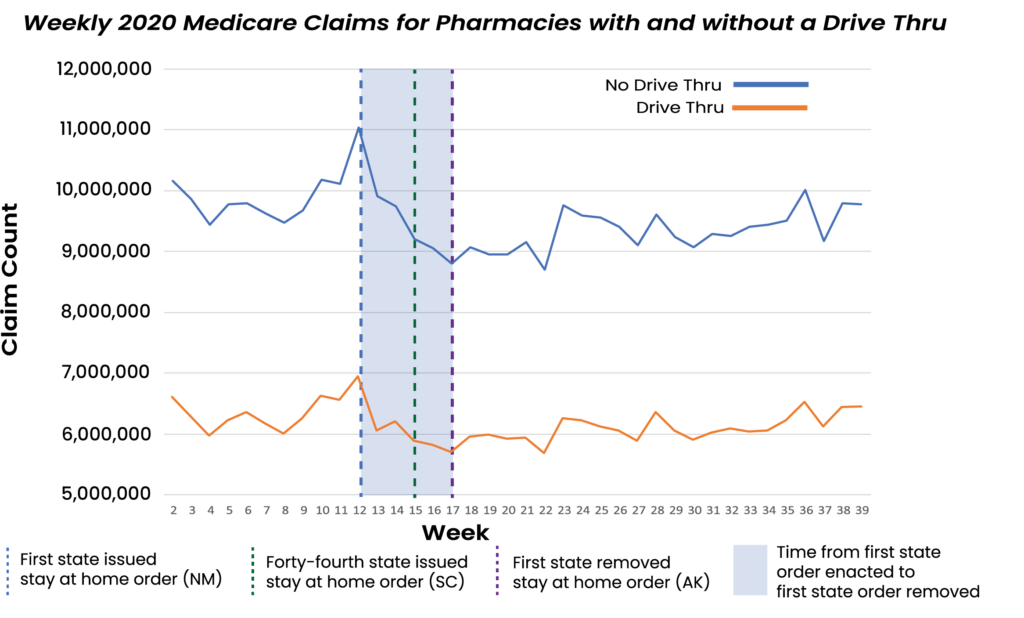 Medicare: MA-PD and PDP |  Stay at Home Orders: Advisory or Mandatory | Aggregated Pharmacy Claim Counts: Pharmacy Quality Solutions  |   Drive Thru Indicator: National Council for Prescription Drug Programs (NCPD) DataQ™ | Advisory Warning Dates: Moreland A, Herlihy C, Tynan MA, et al. Timing of State and Territorial COVID-19 Stay-at-Home Orders and Changes in Population Movement — United States, March 1–May 31, 2020. MMWR Morb Mortal Wkly Rep 2020;69:1198–1203. DOI: http://dx.doi.org/10.15585/mmwr.mm6935a2
.
Are you interested in more trends or do you have questions that you'd like to see answered?  If so, please contact us at support@pharmacyquality.com and a member of PQS's Data Analytics team can discuss what support options are available. 
Trends similar to the above will be assessed and provided in the 2021 PQS Trend Report expected in late summer.
Ateev Mehrotra et al., The Impact of the COVID-19 Pandemic on Outpatient Care: Visits Return to Prepandemic Levels, but Not for All Providers and Patients (Commonwealth Fund, Oct. 2020). https://doi.org/10.26099/41xy-9m57
Centers for Medicare & Medicaid. Announcement of Calendar Year (CY) 2022 Medicare Advantage (MA) Capitation Rates and Part C and Part D Payment Policies. January 15, 2021. https://www.cms.gov/files/document/2022-announcement.pdf [Accessed 1/21/21].