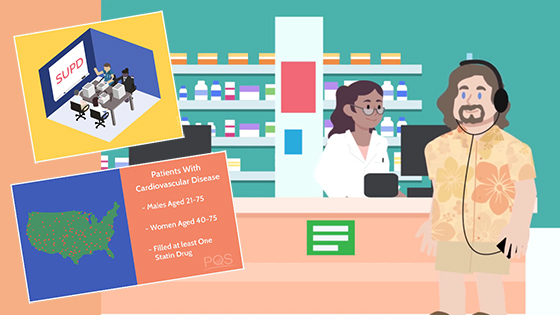 In April 2021, PQS began hosting monthly webinars for EQuIPP® users with the intent to deep dive into the EQuIPP® dashboard and understand how to use this data more effectively. These 30-minute sessions will continue into the fall season, so stay tuned to your EQuIPP® notifications and look for registration invitations to these monthly webinars on the PQS Social Media sites. Our team welcomes questions during the webinars, and the questions also help determine topics for future webinars, podcasts, and blog posts on our pharmacyquality.com site. In our July webinar, we had several questions on statin-related measures, such as the "Statin Use in Persons with Diabetes". For this article, we'll use some of those questions to drive the conversation.
The measures
There are two (2) measures related to statins and clinical guidelines that you see today in EQuIPP® (of course there is also the Cholesterol PDC measure, which looks at adherence to statin therapies). Those measures include:
| | | |
| --- | --- | --- |
| Measures | Measure Developer | Used by CMS |
| Statin Use in Persons with Diabetes | Pharmacy Quality Alliance (PQA) | Part D Star Ratings |
| Statin Use in Persons with Cardiovascular Disease | National Committee for Quality Assurance (NCQA) | Part C Star Ratings |
Many pharmacists will be already familiar with the Statin Use in Persons with Diabetes (or SUPD) measure, as it has been included with the Medicare Part D Star Ratings for several year. A number of contracts between pharmacies and health plans and pharmacy benefit managers (PBMs) have included this measure.
The Statin Use in Persons with Cardiovascular Disease (or SPC) measure may be a new concept. This has been included with the Medicare Part C Star Ratings, which are applicable to Medicare Advantage plans. This measure identifies patients that are eligible for the measure based on specific cardiovascular-related events and/or disease states. Because of these components, the measure requires medical claims and thus is only included for the Medicare Advantage plans, which manage all aspects of a Medicare beneficiary's health coverage.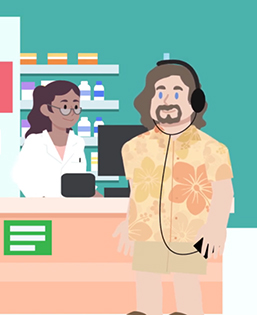 Measuring success
For both the SUPD and the SPC measure, patients are first determined to be eligible for the measure. The SUPD measure identifies patients as eligible if they have two (2) or more medications filled during the measurement period that can be used in the treatment of Diabetes.
For the SPC measure, patients are identified as eligible based on the medical claims for either diagnosis codes or cardiovascular events. Patients eligible for either of these measures are then evaluated as to whether they have also received a statin therapy during the measurement period.
A patient eligible for the SUPD measure will meet the intent of the measure if they fill a statin therapy. On the other hand, the SPC measure requires a patient to fill a moderate or high-intensity statin during the measurement period.
How to improve
Addressing measures related to clinical guidelines may require taking a different path of success than other measures, such as adherence measures like the "proportion of days covered" (PDC). Because both measures require a patient to be prescribed and then receive a statin therapy, a pharmacist and the patient are not typically going to address this opportunity by themselves. Unless you're working under a specific collaborative practice agreement, a physician or other prescriber would be required to prescribe the statin therapy for the patient. Before prescribing, and due to the nature of statin therapies, you will likely find that a patient's physician or prescriber will likely want to meet with the patient to discuss the intended therapy and may also want to have some blood tests updated. This is especially true for determining liver function, which can be a known problem for patients initiating a statin therapy.
There have been some studies and information tied to pharmacist provided suggested therapies, especially for statins. Some suggestions that can be provided include:
Working with prescribers to provide these medication recommendations in a format and with the necessary information for them to evaluate the patient's medication profile
Educating patients so they understand the purpose for the statin therapy and so they can also work with their prescriber
Even if your pharmacy team utilizes all the best practices, these measures are only updated to be "successful" if the patient receives the statin therapy. Both measures are "intermediate outcomes" measures, and thus the intent is whether the patient does achieve that intended clinical outcome. Quality measures will always include some exclusion criteria based on available data and based on clinical appropriateness. Measures will also be reviewed on regular intervals to ensure they should still be maintained based on updated clinical guidelines and the most readily available data sets.
Final notes
As pharmacists' authority for medication management expands, there may be additional quality measures that are researched, developed, endorsed, and ultimately utilized in programs like the CMS Star Ratings. Some pharmacies may already notice in their EQuIPP® dashboard that there are measures related to disease states like asthma, that are similar in nature. Pharmacists can play a key role as part of the healthcare team and as a patient advocate to ensure that patients are receiving the best care management to improve health outcomes. There are some journal articles that we also recommend about pharmacist interventions and initiating a statin therapy:
If you would like to learn more about the SUPD and SPC measures, as well as how measures are used in programs like the CMS Star Ratings, we recommend viewing these videos from the PQS Education Library:
If your pharmacy needs to confirm how to access EQuIPP®, or if you have any questions about the data for your pharmacy, contact us directly. Email support@equipp.org or click on the EQuIPP® Support Link at the bottom corner of your EQuIPP® dashboard.