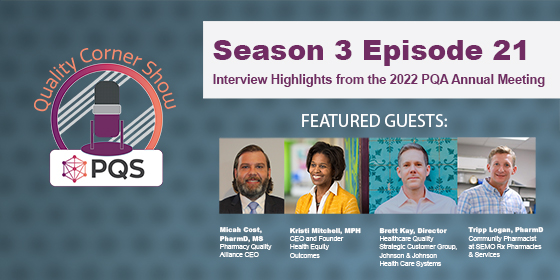 The Quality Corner Show takes a look back at the Pharmacy Quality Alliance (PQA) 2022 Annual Meeting with interviews featuring:
Pharmacy Quality Alliance CEO Micah Cost, PharmD, MS
Kristi Mitchell, MPH, CEO and Founder Health Equity Outcomes
Brett Kay, Director, Healthcare Quality Strategic Customer Group, Johnson & Johnson Health Care Systems
Tripp Logan, PharmD, Community Pharmacist at SEMO Rx Pharmacies & Services www.semorx.com and Consultant at ESPhA www.espha.net

Each interview highlighted an interesting aspect of the event. Cost spoke about the level of engagement at the PQA Annual Meeting in Baltimore, Maryland and is excited about next year's meeting in Nashville, TN. Mitchell spoke about her presentation where she acted as a foil, talking about unidentified consequences that are associated with identifying disparities in the quality of care focusing in on medication use.
Kay reviewed some of the main points from his presentation on the Adult Immunization Quality Landscape focused on immunization rates. The last interview is with Tripp Logan, and he talked about being an attendee at the PQA meeting and why Social Determinants of Health was an inspiring topic for community pharmacy practice at this event.
To listen to the full episode 21 of season 3, "Interview Highlights from the 2022 PQA Annual Meeting," please use the embedded media player below.