Prepare for the 2022-2023 Immunization Season with EQUIPP®.
From mid-October 2021 to the end of January 2022, flu vaccination coverage has been lower so far this season compared with last season for most groups, with a vaccination coverage rate of 44.3% as of Jan. 29, 2022, for all adults 18 years and older.1
PQS can work with you to achieve your immunization goals for the upcoming season and reverse these concerning drops in coverage among people at increased risk of flu complications.
1https://www.cdc.gov/flu/spotlights/2021-2022/study-shows-drop-in-flu-coverage.htm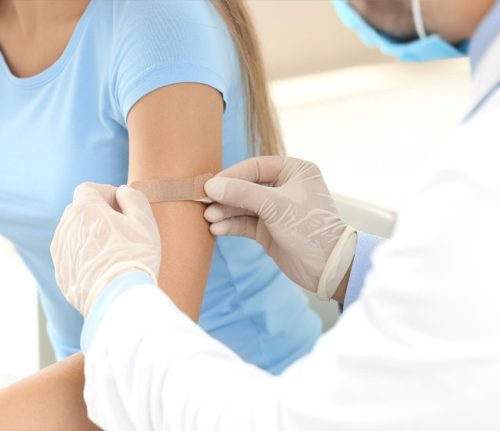 AJMC Publishes "Medicare Advantage-Pharmacy Partnership Improves Influenza and Pneumococcal Vaccination Rates"
The October 2021 edition of the American Journal for Managed Care (AJMC) features an article co-authored by Nick Dorich, PharmD, PQS Senior Manager, Pharmacy Accounts.
The article details how a collaborative effort between a Medicare Advantage and prescription drug (MAPD) plan and community pharmacies raised vaccination rates for pneumonia and influenza via measure hosting within EQUIPP®.
The Value of Pharmacy Immunizations 
As of December 2018, more than 340,000 pharmacists have been trained to administer vaccines across the patient lifespan.1
Increased Face Time with Patients
People on average visit the pharmacy 35 times per year (almost 10 times more than their doctors).2
Pharmacies had lower average direct costs paid per adult vaccination than physician offices and other medical settings (16% – 26% and 11% – 20%, respectively) when both health plan and enrollees' perspectives were considered.3
Pneumonia Vaccination Status
Pneumonia vaccinations could help the CDC's Healthy People 2020 goal to "increase immunization rates and reduce preventable infectious diseases." Stats show: About 900,000 people get pneumococcal pneumonia every year, leading to as many as 400,000 hospitalizations and 19,000 deaths. Less than 64 percent of adults 65 and older have received pneumococcal vaccines.4
Do You Have a Game Plan for the 2022-2023 Season?
Pharmacies interested in tracking their influenza patients can do so within EQUIPP®. EQUIPP® displays select payers' patient outliers who have yet to receive their flu shot, allowing you to identify opportunities for patient outreach and immunization.
Use EQUIPP

® 

to support your immunization goals.
The Annual Influenza Vaccination Measure focuses on the influenza vaccination rate for health plan patients 18 years or older. It coordinates medical claims data with pharmacy data to calculate a performance score (to help account for your patients who may have already received the vaccination through their provider office). Members are attributed to the pharmacy filling the majority of their medications.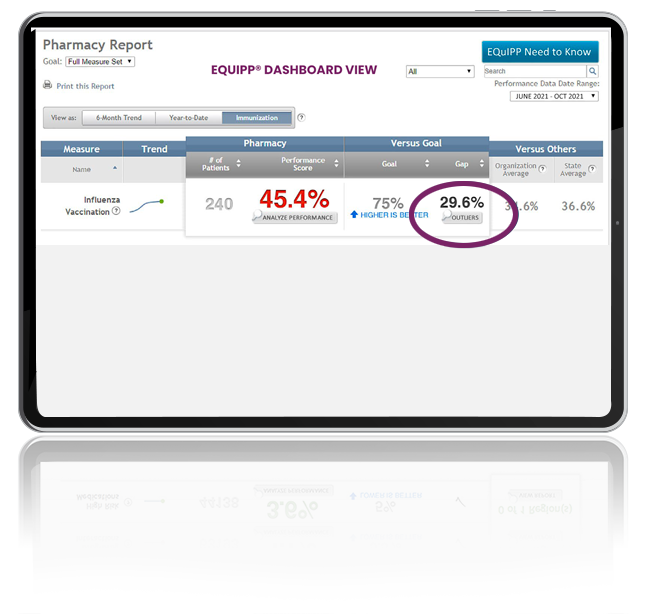 Track Your Vax Using the Annual Influenza Vaccination Patient Designation
EQUIPP® has the ability to show if a patient has received a flu vaccine by displaying a designation in each measure that these patients are currently outliers. This fits directly into the pharmacist's workflow and draws attention to immunize those patients who may be at higher risk of flu related complications and hospitalizations.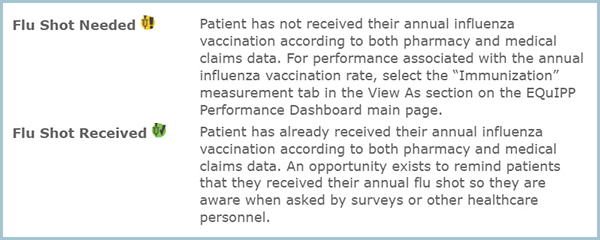 With the designations above, pharmacists are able to understand at a glance if a patient has had a flu shot already or if one should be administered.
IMMUNIZATION MEASURES EXPLAINED
Our "Immunization Measures Explained" educational video offers a few strategy tips for you and your pharmacy staff to increase vaccinations and briefly discusses the CDC adult vaccination guidelines. Check it out.