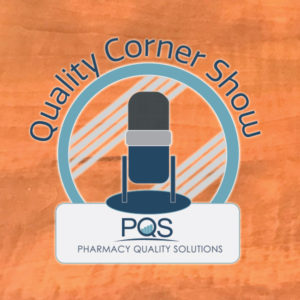 PQS Quality Corner Show
Pharmacy Quality Solutions Senior Manager, Pharmacy Accounts, Nick Dorich, PharmD, hosts a podcast series called the Quality Corner Show that covers everything quality in the world of pharmacy and patient care. You can access recent episodes using the built in player below.
You can also visit our Buzzsprout podcast page for access, and find us on Spotify, Stitcher, TuneIn+Alexa and other podcast platforms.
Have Questions?
Do you have questions about the podcast? Do you have a question you want covered for the podcast? Want to know more about EQuIPP™ or think you might be a candidate for interview for the podcast? Please use the button below and mention the QC Podcast in your subject title.
Contact Us