We connect pharmacies, payers, and providers to
empower you with the insight you need to make smarter decisions
and optimize your medication management efforts.
PARTNER WITH PQS. GAIN AN ADVANTAGE.
We are a leading provider of performance management services for payer and pharmacy organizations. Our industry collaborations combined with proprietary technology enable us to deliver the quality insights and guidance our customers need. Working together, we help our clients optimize their medication management efforts and improve outcomes for all the populations they serve.
PQS quality improvement experts are eager to work with you. Let us help you discover an easier way to view and measure your performance, make progress in the right areas, and stay on track toward greater and continued success. Better health data leads to better health.
Helping You Optimize Your Most Important Initiatives
Everything we do is designed to help you optimize your most important initiatives so that, ultimately, you can move one step closer toward creating a healthier world. By combining quality measures and standardized clinical data in one platform, we've developed a better way to access streamlined data and use it to your advantage.
Use EQUIPP® to better understand quality measures and discover patient improvement opportunities for a healthier world.
Our flagship platform, EQUIPP®, provides standardized, benchmarked data and insights to help shape strategies and guide medication-related performance improvement. EQUIPP®, our performance information management platform makes it all possible. Measure your performance over time and recalibrate toward greater success. 
Develop strategies to maximize efficiency. Discover new ways to improve.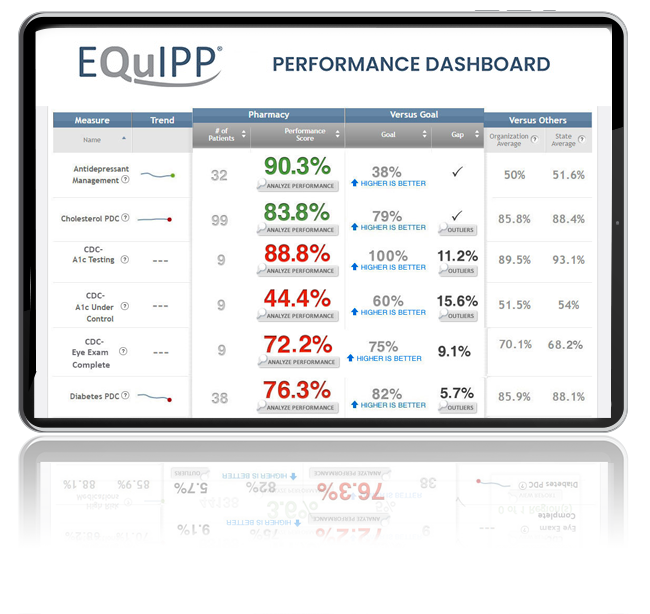 95
PERCENT OF ALL THE PHARMACIES IN THE US.
Nine out of ten of all pharmacies are connected to EQUIPP®.
60
MILLION LIVES
Data for nearly 60 million lives across Medicare, Medicaid, and commercial lines of business are managed within the EQUIPP® platform.
42
MILLION PATIENTS
Over 42 million patients are in a performance-based program managed by pharmacists.
90
PERCENT OF MEDICARE LIVES
Nine out of ten Medicare lives are hosted in EQUIPP®.
EXCITING NEW CHANGES ARE COMING TO EQUIPP®!

THE NEXT EVOLUTION OF EQUIPP® IS COMING IN 2022.