UP YOUR QUALITY GAME WITH EQUIPP®.
EQUIPP® helps payers and providers foster quality improvement collaborations and achieve performance strategies with standardized, benchmarked data and analytics.
We've changed the way payers and providers collaborate on improving the quality of medication use. EQUIPP® is our flagship platform that provides standardized, benchmarked data, bringing a level of standardization and transparency so that you and your quality allies view data and performance metrics in a common way.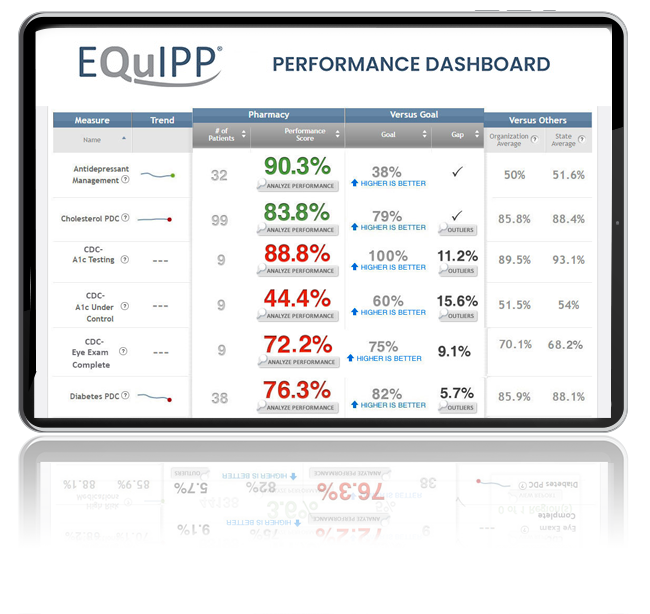 A neutral third-party platform designed to align the industry on quality measurement
EQUIPP® supports the healthcare industry in using a common language on medication use quality measurement and establishing transparency on performance opportunities. We are deeply committed to elevating the role of the pharmacy in healthcare. From medication use and immunizations to patient outcomes measures, we continue to innovate EQUIPP® to support you in reaching your highest levels of quality performance.
EQUIPP® hosts a range of performance measures from measure stewards, PQA and NCQA, according to detailed specifications. Payers and PBMs can customize programs with the measures that matter most to their performance strategy.
EQUIPP® identifies patients not meeting the intent of the quality measure (patient outliers) to make it easier for you to prioritize potential targets for improvement.
Health plans and PBMs can choose the My Programs module to further tailor their quality improvement programs. Providers can have access to view program-specific details on performance goals and impact.
EQUIPP's documentation feature allows payers and pharmacies to organize their efforts for patient and provider outreach. We enable two-way communications for those programs that want to promote a deeper level of engagement.
Pharmacies are a key component to addressing health equity gaps. EQUIPP® can display select payers' immunization opportunities, allowing you to identify patient targets for outreach to keep your communities healthy. Learn More.
It all begins with the data.
We calculate measures according to PQA and NCQA measure specifications. We receive the necessary prescription claims, medical claims, and member eligibility details from health plans and PBMs.
Understanding the numbers is foundational.
Scores displayed in EQUIPP® represent the percentage of patients that are meeting the intent of the measure. For example, for an adherence measure, the score represents the percentage of patients at the pharmacy (or across the pharmacy organization) that are adherent to that measure. Performance measures hosted within EQUIPP® are calculated using prescription drug claims and/or medical claims data that has been adjudicated to a health plan or pharmacy benefit manager that partners with EQUIPP®. For additional information, check out our Resources page. 
GET EQUIPP'ED FOR BETTER QUALITY PERFORMANCE.
EQUIPP® Educational Videos can help first time users and even quality measure experts brush up on their EQUIPP® knowledge. Visit our media section to watch How-to and measure-specific videos that will help you and your pharmacy staff understand quality measures and identify key opportunities to engage with your customers.