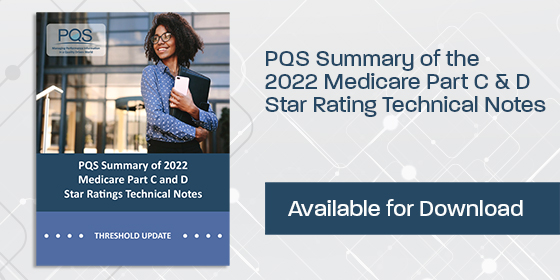 On October 8th, CMS released the Medicare 2022 Part C & D Star Rating Technical Notes. The complete version of the CMS Technical Notes can be found here.  For your convenience, PQS has summarized the 2022 Medicare Part C & D Star Rating Technical Notes, which includes key takeaways, performance trend graphs, and measure threshold charts.
Summary of 2022 Medicare Part C & D Star Rating Technical Notes
General points and highlights from the report:
For the 2022 Star Ratings, CMS adopted a number of changes to address the impact of the 2019 Novel Coronavirus (COVID-19) in the Medicare and Medicaid Programs and to encourage that members and patients faced minimal hurdles to receiving necessary care and treatment.

Implemented changes for the 2022 Star Ratings includes the delayed implementation of guardrails until the 2023 Star Ratings so cut points for the 2022 Star Ratings (based on 2020 measurement year) could change by more than 5 percentage points if needed.
CMS expanded the existing hold harmless provision for the Part C and D improvement measures providing protections against a plan's summary or overall rating to decrease due to lower scores as a result of the COVID-19.

Approximately 90% of MA-PD enrollees are currently in contracts that will have 4 or more stars in 2022 while ONLY 42% of PDP enrollees are in a Medicare contract with a rating of 4 or more stars for the 2022 plan year.
Average Overall MAPD Star Rating increased to 4.37, up 0.31%, which was the largest jump from the previous three years. The average PDP Star Rating increased from 3.58 Stars in 2021 to 3.70 in 2022.
5 Star MAPD Health Plans for 2022 will increase to 74 individual plans up from 21 contracts in 2021.
5 Star PDP Health Plans for 2022 will increase to 10 individual plans up from 5 contracts in 2021.
The 2022 Star Ratings for Medicare Part C & D plans are displayed on the Medicare Plan Finder found at www.medicare.gov. As of October 15, 2021, Medicare beneficiaries can view these 2022 Star Ratings when selecting their MA-PD or PDP for the 2022 benefit year as part of the Open Enrollment period which will continue through December 7, 2021.
Click below to continue reading the PQS summary.
Summary of 2022 Medicare Part C & D Star Rating Technical Notes