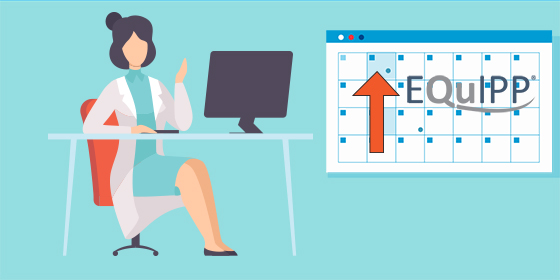 So far, 2021 has been very busy for many pharmacies as they work around the clock to immunize their local communities against COVID-19. Great work on those efforts and kudos to all for adapting your pharmacy operations during the entire pandemic whether it meant increased deliveries, curb-side pickup, giving patients online ordering options, making hand sanitizer, providing meals and doing what you do best – taking care of your patients.
Now, as we progress to the second half of the year, let's talk about how your pharmacy can maximize the use of data in EQuIPP®. Your pharmacy staff may soon be focusing once again on adherence interventions and patient outreach. Knowing how to use this information effectively will help keep the team providing stellar patient outreach for managing patient medication regimens.
Year-to-Date reporting
As covered last month, the team at PQS highly recommends that pharmacies view the "Year-to-Date" or YTD reporting in EQuIPP®. Many payer programs use YTD performance scores in their performance programs, so finding these details in the "Quality Improvement Programs" table via the Analyze Performance button helps you identify your key opportunities!
Weekly Outlier Updates
There are a number of payers that may provide weekly outliers in EQuIPP®. Having a "Quality Champion" to review these opportunities that update with a higher frequency may help your team by providing data that is more actionable and closer to a real-time basis.
How can you find weekly updated outliers? Some programs may have outliers listed as "Late Refill", this generally means that a patient is up to 2 weeks late to refill a medication in that therapeutic class, based on the claims history adjudicated to the payer. Following up with these patients can help to address potential nonadherence or allow the pharmacist to enroll the patient in various programs that may limit such instances in the future!
Getting patients adherent
For the core measures in EQuIPP® (Cholesterol PDC, Diabetes PDC, and RASA PDC) a patient is considered adherent if their PDC score is 80.0% or better.
Looking at a full calendar year (period January – December), some patients may reach a point when their PDC score will be unable to hit 80%, even if they are adherent for every remaining day in the calendar year. While this may be disheartening for your pharmacy staff, these patients can still be great candidates for continued clinical interventions or refill reminders. Afterall, we know that many patients maintain the same pharmacy year after year. So, while it may not be possible to get this patient back to 80% for 2021, efforts taken now can still help to get the patient on a path to adherence that can show a benefit in 2022.
One rule of thumb that can help you identify patients that can still get a PDC score of 80% or better by the end of the year: if a patient has a PDC score below 60% by the end of the summer, it is going to be very difficult to get them up to 80% PDC by the end of the year. Based on this information, keep two things in mind:
1. Make sure to identify those patients that fall below 80% as soon as possible.
2. Have your team members check the EQuIPP® data at least once a month, so you can catch these opportunities as soon as possible. Every day counts.
Adherence Programs and MTM cases
If your pharmacy uses medication synchronization, a refill reminder program, or compliance packaging, that's a great start to help keep patients adherent! Reviewing MTM or CMR cases and completing them when available can also be a great way to identify appropriate medication use, which can also help to keep patients adherent. However, these solutions and tools are not a silver bullet. The situation for a patient can change from one month to the next. That's why routine follow up and review of fill history and PDC scores is helpful.
Final Notes
Your pharmacy has a great opportunity to make 2021 a success and optimizing your use of EQuIPP® performance data can help your team to be focused and efficient. Start by checking EQuIPP® at least once a month and make sure your team is coordinated on the key opportunities.
If you would like to understand more about how interactions with patients relates to EQuIPP® ,I recommend viewing the following videos:
• Three Ways to Improve your EQuIPP® score
• Quick Tips on How to Improve Performance on Adherence Measures
If your pharmacy needs to confirm how to access EQuIPP®, or if you have any questions about the data for your pharmacy, contact us directly! Email support@equipp.org or click on the EQuIPP® Support Link at the bottom corner of your EQuIPP® dashboard.
The following two tabs change content below.

Nick Dorich
Nicholas Dorich, PharmD is the Associate Director, Pharmacy Accounts for Pharmacy Quality Solutions. His team works directly with pharmacy organizations representing more than 60,000 pharmacies in the United States. Nicholas' passion in the pharmacy profession includes expanding clinical services for pharmacists and recognition for pharmacists as an integrated member of the patient care team.

Latest posts by Nick Dorich (see all)