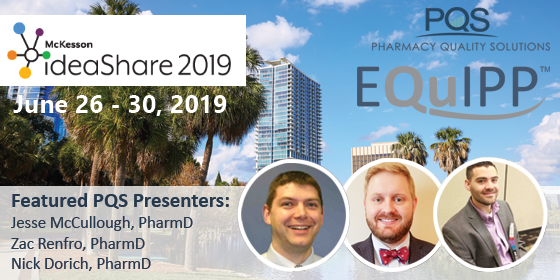 Pharmacy Quality Solutions (PQS) will present on pharmacy quality and EQuIPP™ at various forums throughout McKesson ideaShare June 26 – 30, 2019 in Orlando, Florida including a Continuing Education (CE) seminar.
Jesse McCullough, PharmD, Director of Quality Programs at PQS will speak along with Collin Kelley, PharmD, MBA, Clinic Pharmacist at Thrive Pharmacy Solutions on a CE session "Expanding Pharmacy Quality Beyond the Measures," slated for Wednesday June 26, 2019 at 1 p.m.
Here's a brief synopsis from the ideaShare schedule:
Expanding Pharmacy Quality Beyond the Measures
CE eligible credit: 2 hour
Patient quality means more than chasing adherence lists. Join this session to explore ways the whole team can get involved in improving adherence and outcomes for all patients.
Learning Objectives:
1. Discuss key pharmacy quality measures that pharmacies can impact.
2. Implement a plan to incorporate quality performance into pharmacy culture and workflow operations.
3. List methods to improve adherence through a patient-centered, pharmacy team approach.
4. Describe examples of successful implementation of quality improvement programs and value-based reimbursement opportunities.
Look for PQS to hold two additional workshops on Friday June 28 on "Closing the Gaps in Patient Care with EQuIPP™" featuring PQS Director, Client Services Nick Dorich, PharmD and Zac Renfro, PharmD, Senior Manager, Quality & Technology at PQS. This presentation is scheduled for 10:30 a.m. and again at 2 p.m.
Another presentation "Taking Action with EQuIPP™" is scheduled for Friday June 28 at 3 p.m. and on Saturday June 29 at 11:30 a.m.
PQS will also be available during exhibit floor hours in the "Improve Your Performance Pavilion" inside the McKesson Booth. We are excited to meet with pharmacists and their staffs to discuss EQuIPP™.