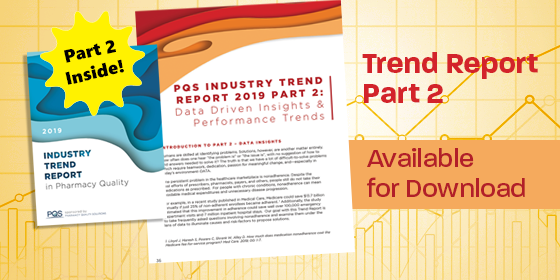 Pharmacy Quality Solutions (PQS) has published online the second part to its industry trend report, entitled PQS Industry Trend Report 2019 Part 2: Data Driven Insights & Performance Trends.
This document focuses on understanding potential risk factors impacting medication-related quality measures. Each analysis contains the problem or question that was posed, the data that was used, the analytic methods, and findings with potential implications.
Part 2 of the Trend Report completes the 2019 Trend Report and begins on page 36. When downloading the full document, the table of contents on page two can direct you to the different sections of this report.
PQS debuted the report Thursday morning November 21, 2019 during Pharmacy Quality Alliance's 2019 Leadership Summit. The PQS Industry Trend Report in Pharmacy Quality can be downloaded by clicking the button below.
Download 2019 Industry Trend Report