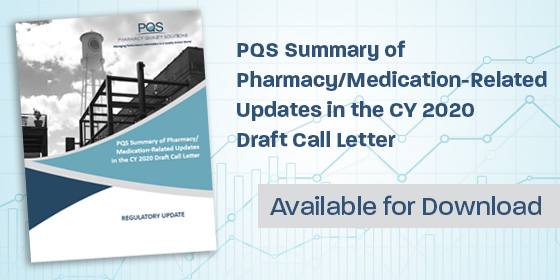 PQS has summarized the Calendar Year 2020 Draft Call Letter as it pertains to pharmacy and medication-related updates. The original Draft Call Letter can be found here.
The Centers for Medicare & Medicaid Services released the Advance Notice/CY 2020 Draft Call Letter on January 30, 2019. This letter explains potential changes and additions to measures in 2020 as well as potential changes in 2021 and beyond. Once items have been confirmed in the Final Call Letter, PQS will provide another update to share which proposed elements have been confirmed.
The PQS Summary of Pharmacy/Medication-Related Updates in the CY 2020 Draft Call Letter can be downloaded by clicking the button below. Inside our regulatory update, we provide a condensed high-level summary on page 2 of our report.
Download PQS Summary