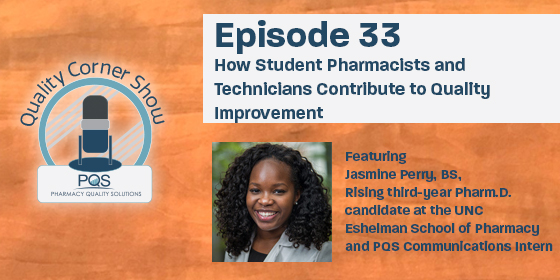 PQS Senior Manager of Pharmacy Accounts, Nick Dorich, PharmD interviews Jasmine Perry, BS, a rising third-year Pharm.D. candidate at the UNC Eshelman School of Pharmacy on how student pharmacists and technicians contribute to the quality improvement process in the pharmacy on the latest episode of the Quality Corner Show. She currently serves as the Communications Intern with Pharmacy Quality Solutions, Inc.
In episode 33 of the Quality Corner Show podcast, Perry adds how student pharmacists help with patient interventions while at the same time gaining valuable communication skills by working with patients.
Jasmine Perry is on LinkedIn and Youtube.